A 4-year-old girl is earning praises online after she trekked 8 kilometers in the freezing cold, on a pitch-dark early morning, across a wolf-infested forest so she could to the nearest house to ask help to save her grandpa.
Living in a remote area in Tuva, Siberia, Saglana Salchak knows survival skills more than an adult living in the city but everyone knows that trek was too much for a young girl her age to take by herself!
According to the Siberian Times, Saglana discovered her grandma 'very cold' early that morning. When the old lady wouldn't wake up, Saglana told her grandpa about it. Realizing his wife was **** and they were now both in peril as he was totally blind, Grandpa Borbak told Saglana to go to their neighbor's house, not realizing that it was pitch dark outside as it was still 5AM!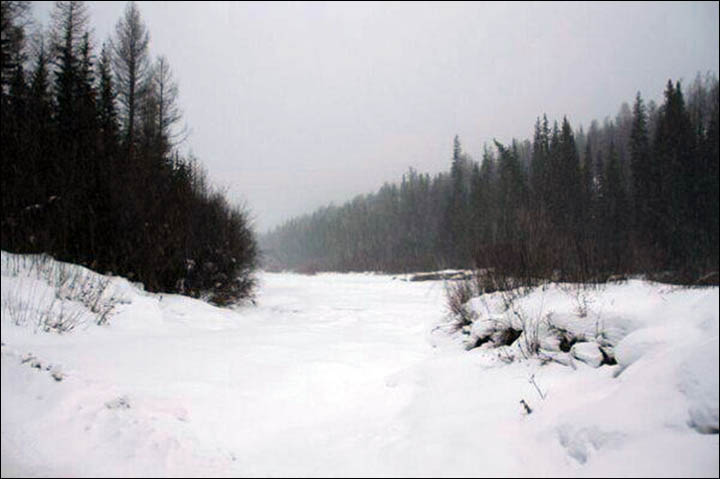 But the brave girl wasn't afraid of anything. Saglana took some matches and followed the trail of a horse sled over a frozen river towards the house of their nearest neighbor, some 8 kilometers away.
The brave girl said, "It was very cold and I was so hungry. But I wasn't scared. I was just walking, walking, walking. And I finally got there."
But she had every right to be scared, even though she wasn't! According to the head of Tuva's search and rescue team, Semen Rubtsov, not only was there some possibility that she might fall into the river if she made a wrong step on a weaker portion of the frozen river's crust, there were also wolf packs in the area!
While children in the locality learn to survive in extreme conditions, Saglana was still quite lucky she didn't meet those wolves.
"This girl acts as a professional already. She took the matches to light a fire in case she needs. The difficulty was that she had to make her way through snowdrifts," the rescuer said.
"There also was a great danger – wild animals. Bears are hibernating now, but Tuva is crowded with wolves. They plague the cattle, and shepherds groan because of them. In the dark she could easily have stumbled on a pack," he added. "This girl was lucky that she did not meet them. Her only hope would have been to climb a tree."
He also praised Saglana for moving 'quickly' to reach the neighbors and for dressing warmly.
The girl is now in the custody of the local social workers while the Investigative Committee in Tuva is deliberating on whether they should press charges against her mother, 31-year-old Eleonora, for leaving her under the care of the ailing grandparents.
"Saglana is an open-minded, intelligent and tender girl. We are proud that a small heroine from the taiga is growing up here. We treat her like our own daughter, and kiss and hug her each day," a social worker said. "After all, not every 4 year old child manages to perform the feat that she accomplished. She becomes sad when someone recalls her grandma. She is very upset by her *****."
She added, "To help distract her from grieving, we have organized a campaign: 'Let's help Saglana!'. And complete strangers have already sent a lot of gifts to her."
Good job, Saglana!